16 octobre 2007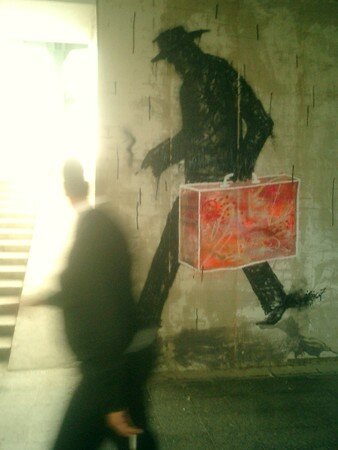 "samsung man" dim: 300x210
paper poster
painting : ipin07
photo: Thomas Richard
Special thanks to Thomas Richard and Lukasz Jastrubaczak for their help to this project be possible!!
exhibition at the main train station of Ankara, samsung man will be there
from 5 to 20 october 2007-
07 octobre 2007
Mustafa Kemal Atatürk (1881 – November 10, 1938) was an army officer, revolutionary statesman, the founder of the Republic of Turkey and its first President.
Mustafa Kemal established himself as a successful and extremely capable military commander while serving as a division commander in the Battle of Gallipoli. He later fought with distinction on the eastern Anatolian and Palestinian fronts, making a name for himself during World War I.[1] Following the defeat of the Ottoman Empire at the hands of the Allies, and the subsequent plans for its partition, Mustafa Kemal led the Turkish national movement in what would become the Turkish War of Independence. Having established a provisional government in Ankara, he defeated the forces sent by the Entente powers. His successful military campaigns led to the liberation of the country and to the establishment of the Republic of Turkey.
Mustafa Kemal then embarked on a major programme of reforms in the political, economic and cultural aspects of life in Turkey, with the perspectives defined in the Kemalist ideology, which sought to create a modern, democratic and secular nation-state, guided by educational and scientific progress based on the principles of positivist and rationalist enlightenment.
(http://en.wikipedia.org/wiki/Mustafa_Kemal_Atatürk)
Atatürk became an icon in Turkey, in all the shops,in the street and even in many houses, the strict portraits of the ancian chair "look at" manners of current Turkish people...
Strange faschist feelings, this is the army which takes care has what the republican rules of Atatürk are always strictly applied... strong barrier against the possible growing of a political Islamism...
"Atatürk - Do it jazz!",
série of 9 postcards (single parts) sent in France under envelope (strongly recommended!..);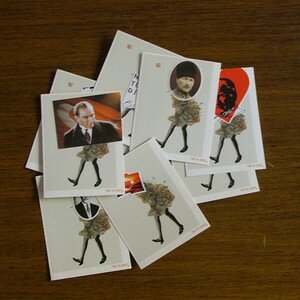 in french..
Mustafa Kemal Atatürk (né à Salonique le 12 mars 1881 - mort à Istanbul le 10 novembre 1938) est le fondateur et le premier président de la République turque.
Après la Première Guerre mondiale et l'occupation alliée de l'Empire ottoman, ce militaire se révolte contre le gouvernement impérial et crée un deuxième pouvoir politique à Ankara. C'est de cette ville qu'il mène la guerre contre les occupants à la tête de la résistance turque.
Sous son commandement, les forces turques vainquent les armées arméniennes, françaises et italiennes. Puis il défait les armées grecques qui occupent la ville et la région d'Izmir, la Thrace orientale et certaines îles de la mer Égée. Mustafa Kemal affirme également une volonté farouche de rupture avec le passé impérial ottoman et de réformes radicales pour son pays.
Il profite de la trahison du sultan avec l'armistice de Moudros pour mettre un terme au sultanat le 1er novembre 1922. Il instaure de la sorte une séparation entre le pouvoir politique (sultanat) et spirituel (califat).
Après la proclamation de la République, il déplace la capitale d'Istanbul à Ankara et il occidentalise le pays à travers plusieurs réformes. Notamment, il laïcise la Turquie, donne le droit de vote aux femmes et remplace l'alphabet arabe par l'alphabet latin. Sous sa présidence autoritaire, la Turquie a mené une révolution sociale sans précédent, qu'on appelle généralement révolution kémaliste. Le 24 novembre 1934, l'Assemblée lui donne le nom d'Atatürk « père des Turcs. »
Il meurt d'une cirrhose du foie le 10 novembre 1938...
(http://en.wikipedia.org/wiki/Mustafa_Kemal_Atatürk)
Atatürk est devenu une icône en Turquie, dans tous les commerces, dans la rue et même dans de nombreuses habitations, les portraits strictes de l'ancien président "surveillent" les moeurs des turcs actuels...
Drôle d'impression faschisante, c'est l'armée qui veille a ce que les prérogatives républicaines d'Atatürk soient toujours appliquées à la lettre... barrière musclée contre l'émergence possible d'un islamisme politique...
"Atatürk - Fait le jazz!",
série de 9 cartes postales (pièces uniques) envoyés en France sous enveloppe (fortement recommandée!..);
05 octobre 2007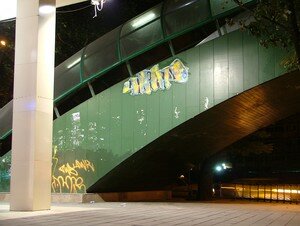 night session with Doruk, Oguz, Zoïc...
Sticking AAA & 3BDC posters made by "shaame" and "hep!" in Marseille (France) 2 years ago...
big up!
30 septembre 2007
I've just come back from Ankara to Marseille yesterday..
But I'm still gona fill this blog...
a lot of pictures to organize and the exhibition at the train station planed for the 4th of september...
so I'm still here!..
I just want to dedicate a lot of big thanks to Tùgba Ulker & Funda Ozkan and all the stuff of "Atölye çamurdan" for their hospitality and their helps in everythings, thanks to Nihan for her Turkish cafe lesson, a big big up to Kutlu Gürelli (niktou!!) see U in Marseille, big thanks & big respects to Harun Antakyali for his presents and his paintings and for the human he his, big thanks to the leaders Kathrin, Oguz and kathia and big friendships to Thomas (see U in Weimar!), Andrea (see U in Berlin!), Doruk, Lukasz, Wojtek, Burak, Cigdem, Ezgi, Deniz, Meltem, Alex, Zoic, Javiera, Mathilde and a special to Ozlem...
On the wall again!..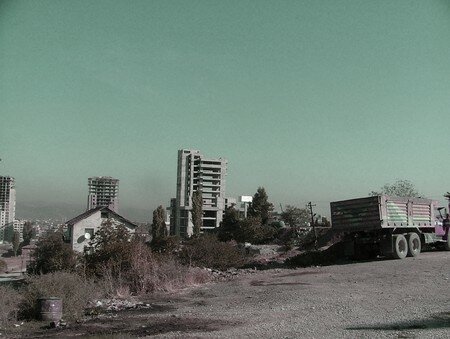 26 septembre 2007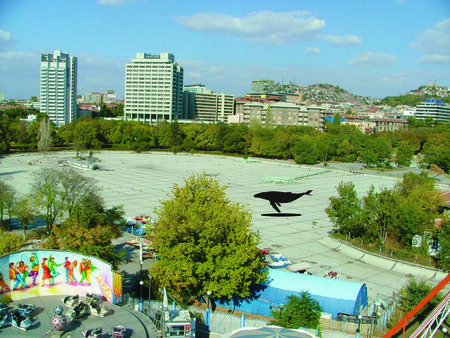 an hudge empty swimming pool...
the lack of whater..
concept of anamorphosis..
the whale and its shadow..
24 septembre 2007
We just come back from two days in Istambul, to see the biennal of contemporary art and naturally to visit this amazing city,
I have selected three fotographies for this blog which are speeking about ... walls!
Be really attentive to the first one (open it) .. it's incredible!...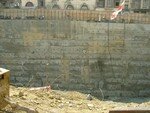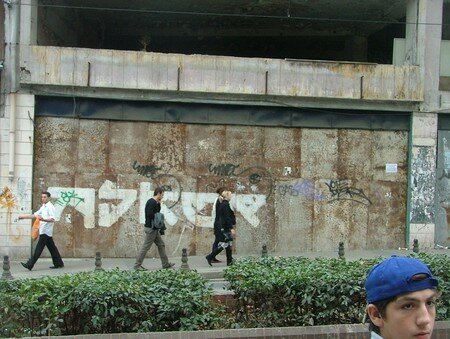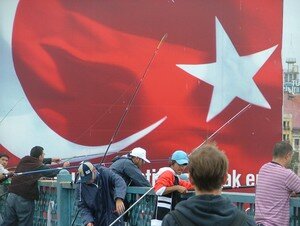 20 septembre 2007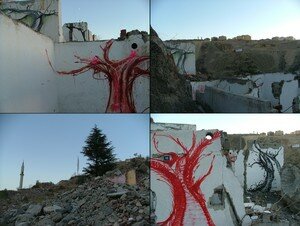 "gecekondu" : houses builted in one night, here in Turkey, if you built your own house in one night (naturally in a free space), you're becoming owner of this house. But if the government of the city decide to requisition this area for a big property plan, you just have to leave, and the entire quarter is destroyed...
Now, gecekondu are a Mafia business, you rent your home to a man who have built the house.
Human's spirit & money's perversion are universal...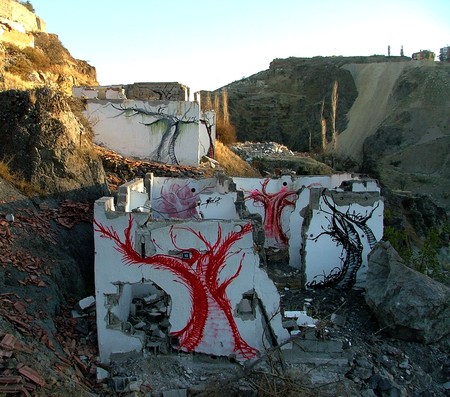 17 septembre 2007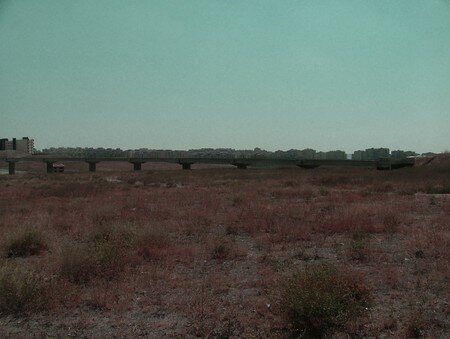 on the road beetween the "wall of Fame" of Ankara and the metro station with özlem...
it is a really big intersection beetween 3 "6 lines" roads, I was a beat stressed about this action... but it has been so quietly!
Open the picture and find the foreigner...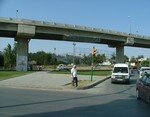 On en est a une semaine pile, écoulée ici, on a surtout passé la semaine a découvrir la ville, essayer d'approcher une comprehension des enjeux politiques de la Turquie, moi qui croyais arriver dans un pays vierge de tag, je découvre une vrai culture du tag et du graffiti, avec des jams (rencontres), des pochoirs halucinants et très nombreux, un engagement politique très important, je découvre un pays tiraillé entre un état militaire et une démocratie qui tente de hurler sa laïcité par le nombre de portraits de "Mustafa Kemal Ataturk"* affichés partout, de l'autocollant, à la sculpture monumentale au cadre dans la cabane du vendeur de döner.
Je découvre aussi, des gens très sobres, très graves, très accueillants, une ville très grosse, très "bloc", très fonctionnelle, une architecture faschisante, des voitures agressives, un soleil omniscient... je découvre Ankara..!
*(père de la Turquie, qui la libère dans les 30s de l'occupation française, italienne, arménienne et grecque, en déclarant un pays indépendant et laÏque)